Here's Lawrence's performance from the  GRAPHIC FESTIVAL as part of the live RADIO WITH PICTURES broadcast. He appears on-stage at the Sydney Opera House while comic book artist Leigh Rigozzi illustrates it on the big screen and a soundtrack accompaniment is played live by cellist Pete Hollo.
This vodcast is presented as it was screened at the live event, it contains sections where the screen is black and it is in its original 4:3 format.
RADIO WITH PICTURES matches storytellers, comedians, writers and radio makers with artists and musicians for a "live radio recording" vibe of yesteryear.
Listen & see the other stories/documentaries/radio plays from the Radio With Pictures' Sydney Opera House broadcast here: VODCASTS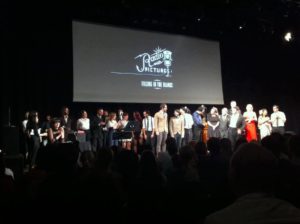 (photo: FBI Radio)