ABC2 officially announces the air date for Australia's first kung fu comedy series. Tuesday February 24, 9pm.
Maximum Choppage is a painfully funny, six-part, genre-busting action/comedy series written by Lawrence Leung, Josh Maplestone and Duncan Sarkis (Flight of the Conchords). Here's the trailer:
Lawrence plays the unqualified hero Simon Chan, who is reluctantly trying to save his town with his best pals, Petal (Stephanie Son) and Egg (Dave Eastgate). The hilarious cast includes Kathryn Yuen as Simon's mum, Darren Gilshenan, Georgina Haig, Jason Chong, Andy Trieu, Anthony Brandon Wong,  Fellino Delloso, Jackson Reine and Lap Phan.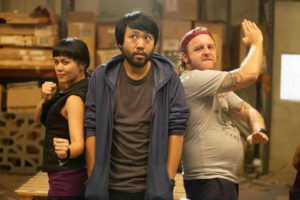 Oh and let's not forget about the awesome stunts by the Dong Tam crew.
Directed by Craig Melville and produced by Sophie Miller & Julie Eckersley at MatchboxPictures (NBC Universal),  MaximumChoppage is unlike anything seen on Aussie TV at the moment and we're all pretty excited about it.
Cabramatta needs a hero. Instead they got Simon, Egg and Petal.
Tuesdays from FEBRUARY 24. 9pm. ABC2