A live online show that takes place on two sides of a screen: Lawrence's and yours. Mentalism & mindgames from comedian Lawrence Leung.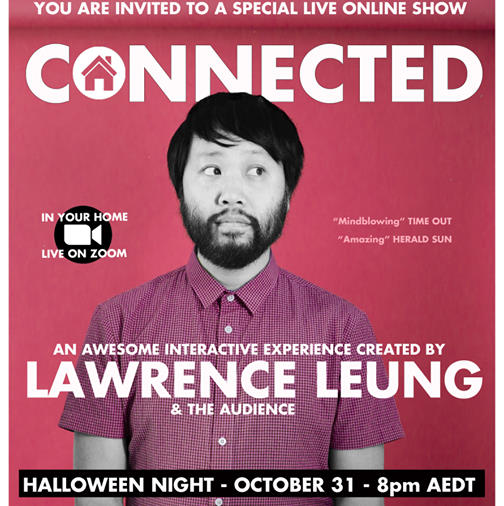 A live interactive online performance where you have the best view of the show – at your house. You are invited to be part of the audience for this mind-bending special event that explores strange connections in this strange new world.


Award-winning comedian and mentalist, Lawrence Leung has been busy during the Melbourne lockdown. While people have been making sourdough, he's been devising a series of fascinating mind games, impossible stunts and immersive experiments to amuse, twist and blow your mind.


From the comfort of their homes, audience members will be guided through mini-experiences where the idea of "connection" will be explored in fun and increasingly surprising ways. Despite being physically separated, participants will have their thoughts "read" through the screen, random strangers may discover remarkable coincidences and – at least for one night – ordinary lockdown life is made extraordinary.


Are we all connected in unexpected ways?


Tickets are limited for this one-off virtual performance, so book your place now. CLICK HERE


"Mindblowing" TimeOut
"Amazing" Herald Sun


Lawrence Leung is an acclaimed writer/performer, creator of the ABC TV series UNBELIEVABLE and a recipient of the Directors' Choice Award at the Melbourne Magic Festival.


HOW IT WORKS
The live performance will take place online on Halloween night, Saturday Oct 31st. 8pm (AEDT, Melbourne time*). You will have the best seats in the house – in your own home – via Zoom on your laptop or PC. After purchasing your ticket, you will receive an email with instructions and Zoom access details. BOOK YOUR PLACE NOW.


* International viewers, please convert your timezone carefully. The show is AEDT Melbourne Local time, so check whether the "date" might be the day BEFORE in your region of the globe.