Nominated for Best Television Comedy at the 2009 AFI Awards, Lawrence Leung's "Choose Your Own Adventure" is a 6-part comedy documentary that aired on ABC1 in 2009. It's a series that asks two questions:
"What did you want to be as a kid but never got around to? What if you could do it now?"
Lawrence goes on an adventure of a lifetime to attempt to achieve his childhood dreams… it's poignant, personal and piss funny.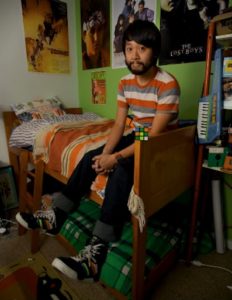 Can he be a real man in a hardcore pro-wrestling ring? Can he beat the world's fastest Rubik's Cube speedsolvers in an underground Fight Club? Can he find MacGyver in Los Angeles? Will he prove he's cool by breakdancing with Shabba Doo, star of cult classic "Breakin' 2: Electric Boogaloo"? Can he survive a rap battle on the mean streets of L.A. or rock out live on MTV? And will he find true love with his childhood crush after more than twenty years?
Guided by mentors and scrutinised by his loving but concerned parents (Lawrence's real mum and dad), Lawrence tries to make his naïve dreams come true as an adult. Lawrence's quest is hair-raising, heart-warming and hilarious.