The 2-Disc DVD of the Complete Series is packed with 269min of goodies:
Hilarious deleted & extended scenes, more mum & dad out-takes, music video & karaoke videos and Lawrence's "How to Solve the Rubik's Cube" Tutorial – an epic step-by-step feature that is so long and obsessively detailed it could only fit on a separate disc. You will either fall asleep watching it or end up finally solving your Cube!
DVD is available in shops or BUY DVD Online at ABC Shop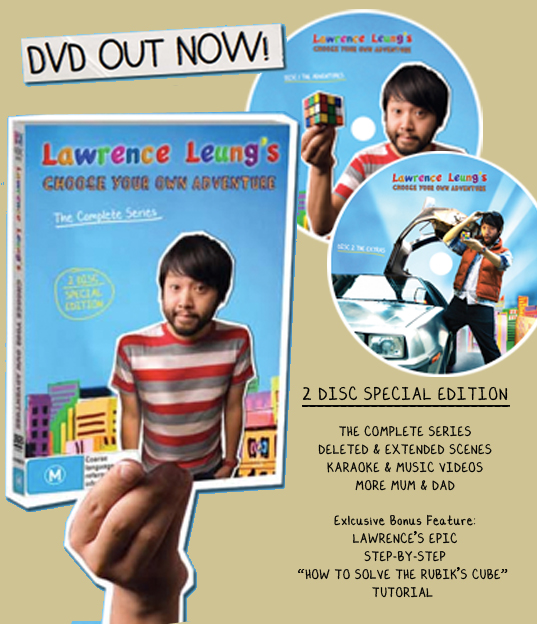 DVD signings (in 2009)
Lawrence is making some in-store appearances at ABC shops around the country if you want him to scribble his name all over your new DVDs:
Friday May 8th, 2009 – 12.30PM ABC Shop QVB Building NSW
Saturday May 9th 2009 - 11AM ABC Shop Brookvale & 2PM ABC Shop Macquarie NSW
Sunday May 10th 2009- 11AM ABC Shop Miranda NSW
Friday 15th May 2009- 1PM ABC Shop Melbourne GPO VIC
Saturday 16th May 2009- 12PM ABC Shop Chadstone VIC
Saturday 30th May 2009- 12PM ABC Shop Indooroopily QLD
We are holding FIGHT CUBE battles at these instores, so if you can solve the Cube, bring it, race Lawrence for the chance to win prizes!
Come say hello!
For more updates follow Lawrence's FACEBOOK GROUP or TWITTER