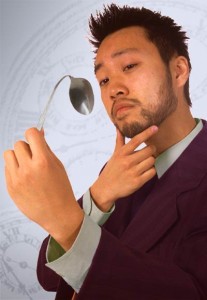 "Skeptic" was Lawrence's second solo show in 2003. It traced his longtime fascination with ghosts, psychics, science and scepticism.
Part science/psychology lecture, part boys-own-adventure, Lawrence's comedic slide show presentation featured highlights of his 2002 ghost hunting exploits around Scotland and statistical analysis of the "readings" that celebrity psychic John Edward made during a concert Lawrence attended.  Ironically, though he claimed he didn't possess any psychic abilities of his own, during the show Lawrence  was seemingly able to guess the date of birth, phobias and PIN numbers of random audience members he'd never met before. Featuring illusions, games of perception and ludicrous science experiments, "Skeptic" aimed to show that seeing isn't always believing.
The show appeared at the 2003 Melbourne International Comedy Festival and the 2004 Adelaide Fringe. At the 2003 Edinburgh Fringe, it  was ranked number 3 in The Sunday Times (UK) Top Ten Best Edinburgh Shows featuring real-life stories and challenges. By night he performed the show, by day Lawrence became a consultant for Scotland's national newspaper (The Scotsman). He was sent to investigate an Irish showbiz psychic and slept in 300 year old catacombs under the Old Town to find ghosts.
Seven years later, Lawrence began adapting some ideas and themes from the show for his new TV project Unbelievable.
"His stories are wrapped in honesty, wry observation and originality. Skeptic allows Lawrence to traverse a range of personal, philosophical and spiritual questions without pontification or cynicism… simultaneously a funny and serious show." DB MAGAZINE (Adelaide)
"Four Stars ****" METRO (Edinburgh)