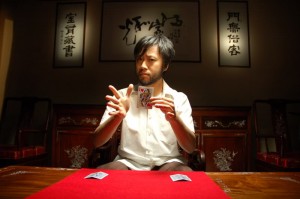 Part expose, part confession, part psychology lecture. Lawrence's deceptively witty one man show 'SUCKER" is a con artist's 'show-and-tell' about classic street swindles and scams, dodgy father figures and betrayal.
Included are live demonstrations of some classic street scams and card cheating techniques that have fooled the gullible and the greedy for generations. The Three Card Monte of English seaside tricksters… the Lost Ring in the Pub Scam… the Gold Brick con… how professional card cheats produce Aces at Poker… and other cheeky delights.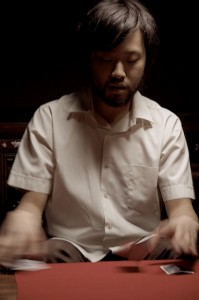 Sucker was the first solo show Lawrence wrote and performed.  It won the Best Solo Show Award at the 2001 Melbourne Fringe. A festival favourite, it has been invited to or appeared at the Melbourne International Comedy Festival, The Adelaide Cabaret Festival, The Edinburgh Fringe, Hothouse Theatre, The Dublin Fringe, The New Zealand International Comedy Festival, The Dunedin Fringe and the Brisbane Festival.  Sucker had clocked its 100th show in Sydney in 2002 where Lawrence was told that he was one of the youngest performers ever to stage their own one-person show at the Sydney Opera House.
The feature film adaptation is currently in development.
"A genuinely surprising triumph… enthralling and very funny… touching, thoughtful and multi-layered… I left the theatre in baffled awe…"
The Age
"Slick with wit." Herald Sun
"Witty, savvy and very cool" The Scotsman
"Missing it would be criminal…. a must see" – The Adelaide Advertiser