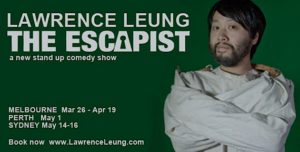 What are the things you wish you could escape from?
A new live comedy show about the trappings of everyday life, awkwardness,
family expectations, love… and doona covers.
SYDNEY TICKETS NOW ON SALE – CLICK HERE
The award-winning bearded comic will present his brand new stand up comedy tour in various cities around Australia in 2015. Lawrence's cavalcade of nerdcore wonders and mirth-heavy delights kicks off in March/April at the Melbourne International Comedy Festival at Trades Hall.
UPDATE: Seasons now concluded in Melbourne/Perth. Thanks to all who came!!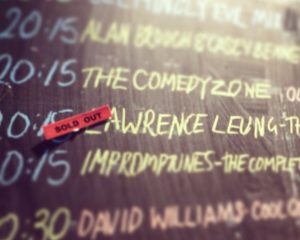 Then he'll be at the Perth Comedy Festival
Friday, 1st May at the Octagon Theatre.
Then Sydney's Comedy Festival
at the Factory Theatre for three shows
on the 14th, 15th and 16th of May.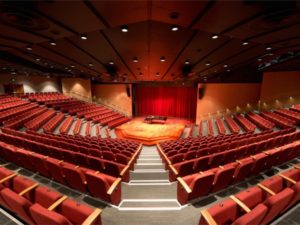 Perth's UWA Octogon Theatre
Reviews from Melbourne & Perth comedy festivals, April/May 2015:
"FOUR STARS" The Age
"4.5 STARS" – The West Australian
"4.5 STARS  An utter joy to watch." – Beat Magazine
"4 STARS. An all-round outstanding performer,
and his tales and one-liners are hilarious.
A fun and fast hour of comedy." TheMusic
"One of the most effortlessly enjoyable shows of the festival.
There's no escaping that fact." – CHORTLE (UK)
"The Escapist is as much in the storytelling genre as it is stand-up. The laughs come just as often and the humour is just as sharp but Lawrence Leung's one-night only performance felt like a playful odyssey rather than a series of punchlines strung together with paper-thin segues."
– West Australian
"He is a superb and ingenuous raconteur."
– Australian Stage
"The Escapist is a perfectly curated performance…
Leung's self-awareness and modesty makes for a stand up performance
that is authentic and easily relatable, at the same time as retaining some edginess.
Leung uses the dying art of story telling to divulge his own life experiences
in a way that is both heartwarming and scintillating."
– APHRAMAG.COM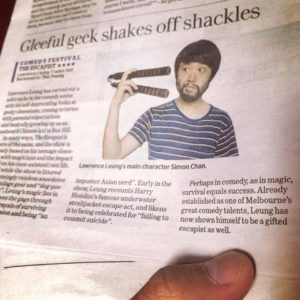 We're looking at other cities at the moment and hope to have some more dates to announce shortly.