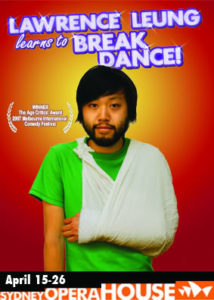 Sleeping in a bunk bed until the age of 24, it's fair to say Lawrence Leung has never been cool. Join him as he encounters trendy fashionistas, road-tests professional pick-up lines and stumbles head-first into a hardcore breakdancing championship – all in an attempt to settle the score with his infinitely-cooler, bass guitar-playing brother. What is "coolness"? Is it all a myth? And does doing a show about the notion of cool ultimately make one uncool? You decide.
The show won The Age Critics' Award at the 2007 Melbourne Comedy Festival and 2008 The Time Out Sydney award for Best Local Comedian at the Sydney Comedy Festival.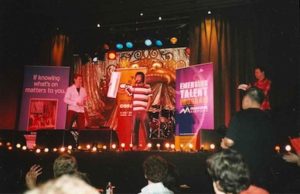 "Breakdance" has been performed at the Melbourne International Comedy Festival (Trades Hall), The Edinburgh Fringe (Assembly Rooms), London's Soho Theatre, The Melbourne Fringe, The Perth International Arts Festival, The Adelaide Fringe and The Sydney Opera House.
'The pace never slackens, the laughter is frequent and the content is beautifully timed.' The Age
"A show with real heart, an uplifting message and hilarious lines that come thick and fast." Chortle, UK 2007