Lawrence sat in a chair to reveal, confess, squirm and laugh at the awkward rites of passage that make up the modern Australian male in the new 6-part ABC1 series AGONY UNCLES.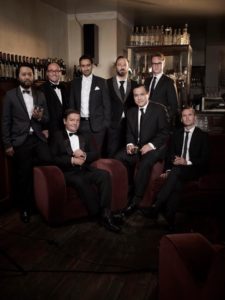 Described as "Wrong. Inappropriate. Confessional. Illuminating", the embarrassingly honest talking-head series invited some of Australia's wittiest and wisest (?) celebrity gents to "put their reputations on the line to tell you what it's really like to be single, cohabitate, marry, divorce and then be single again in the 21st century". The result is a fun program that might help clueless guys out (and help women avoid such guys).
A year and a half ago, series creator Adam Zwar (Wilfred, Lowdown) grilled Lawrence on his thoughts on the do's and don'ts of picking-up, falling in love and getting his heart broken. Lawrence considers his advice to be more in the "this is what you should NOT do" camp and regrets recalling some of the embarrassing anecdotes he bared to the nation.
The other AGONY UNCLES include Waleed Aly (broadcaster, academic), Adam Elliot (Academy Award winning animator), father & son John/Tom Elliott, Kick Gurry, Ed Kavalee (actor, TV host), Andrew Knight (screenwriter, producer), Josh Lawson (actor, screenwriter) and Lawrence Mooney (comedian) who many think stole the show with his infectious laughter and self-deprecation.
It was screened Wednesdays on 9:30 ABC1 in Australia during March/April, 2012.