Lawrence joined famed science communicator and US national treasure Bill Nye on-stage at his Melbourne show. Together they tackled all manner of fascinating, geeky and curious Audience Questions.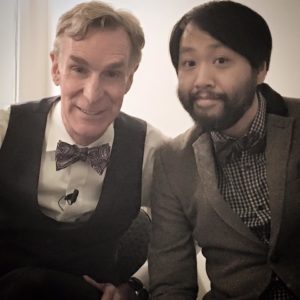 Lawrence wore a bowtie to match Mr Nye, but came across looking like "Bad Chinese Doctor Who Cosplay."
Off the back of his new Netflix series Bill Nye Saves The World, the educator/science activist toured packed-out theatres Sydney and Melbourne with his trademark wit, wisdom, no-nonsense evidence-based rants and entertaining anecdotes covering everything from his mother's top secret Enigma codebreaking, to solutions for climate change and the limitations of Mars colonisation.