Lawrence is thrilled to be hosting events with one of his childhood heroes - the brilliant magician, sceptic, author, paranormal investigator James Randi - for the Syd/Melb/Bris leg of his national tour.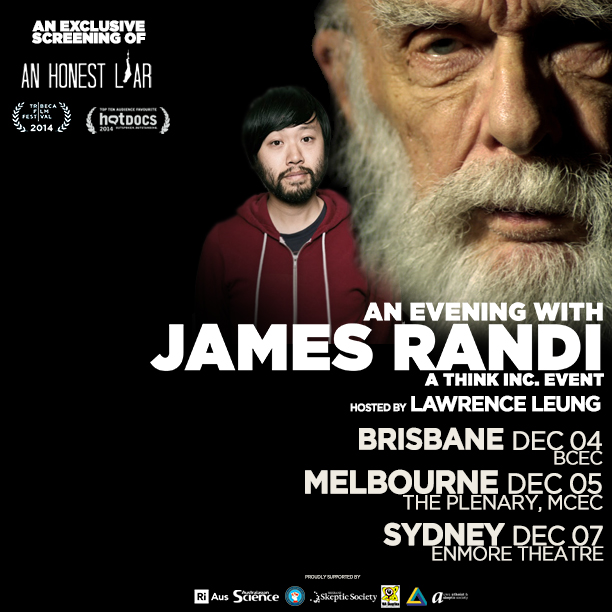 James Randi (known as 'The Amazing Randi') enjoyed an international reputation as a magician and escape artist, but he is perhaps best known in the last three decades as the world's most tireless investigator and de-mystifier of paranormal and pseudoscientific claims.
Some of you may remember Randi from the Psychics episode of the TV series LAWRENCE LEUNG'S UNBELIEVABLE (ABC1) when Lawrence tried to fool the professional sceptic with his magical crystal ball (with ipad hidden inside) to win Randi's $1million psychic challenge. He "busted" Lawrence straight away.

Randi is touring in December with his doco "AN HONEST LIAR" and Lawrence is hosting the Q&A in Brisbane, Melbourne and Sydney about the fascinating career and tales from this (de)mystifying 86 year old. Richard Saunders from SkepticZone will be opening the evenings and there's a chance to meet the Amazing Randi too.
Tickets/info: Think Inc. http://thinkinc.org.au/jamesrandi/