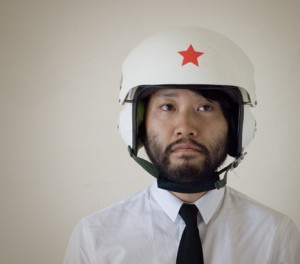 LAWRENCE LEUNG WANTS A JETPACK
is Lawrence's LIVE stand-up comedy show (60min) touring in 2011.
Lawrence Leung has a dream… A dream that one day, all humankind can stand side-by-side (but not too close to each other's jet turbines) and take off into the skies. Programs like Beyond 2000 told us that by now we'd all be flying in jetpacks, but much like their opening titles where a robot nanny pushes a child on a swing, it's all disappointment and rusty pipe-dreams.
In his latest comedic venture, Lawrence explores the dizzying heights of obsession, daydreams, backyard MacGyvers, falling and picking oneself up again. In the process, he discovers that he's not the only one keeping the dream of single-person jet propulsion aeronautics alive.
The new show from the beardy guy from Lawrence Learns to Breakdance (The Age Critics' Award 2007), ABC TV's Choose Your Own Adventure and new series Unbelievable.
NEW SHOWS:
MELBOURNE JULY 1st, 2011
An intimate Melbourne show on sale now. Don't miss out. Tickets here.
LONDON AUGUST 2-13, 2011
Lawrence launchs Jetpack at the  Soho Theatre London
"Terrific"  The Age
"Hilarious"  The Herald-Sun
"Lawrence Leung Wants a Jetpack soars with comedy and hits the lofty heights it aims for."  Crikey
Here are the details for the past/old seasons if you want to look:
Click here for booking details and dates for Melbourne March-April 2011 and here for Sydney May 2011.